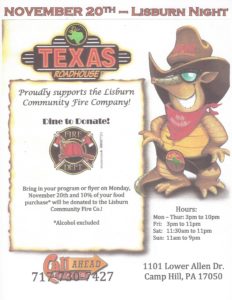 Join the Lisburn Community Fire Company at Texas Roudhouse and Dine to Donate on Monday, Nov. 20, 2017.
LCFC receives a portion of all dinner proceeds that night. Show this post, or a copy of the printed flyer, to your server, and 10% of your food purchase will be donated to the LCFC equipment fund.
Come hungry. Eat hearty. And make your meal count towards helping LCFC protect your neighbors.
Texas Roadhouse is located at 1101 Lower Allen Dr, Camp Hill beside the Bon-Ton and Burger King, across Route 15 from the Capital City Mall.