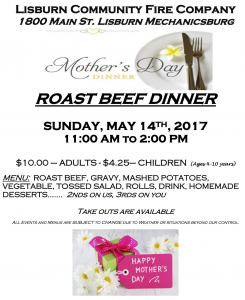 Bring Mom or that other special lady to Lisburn Community Fire Company on Sunday, May 14 at 1800 Main Street, Lisburn, for our Roast Beef dinner.
We will serve from 11:00 a.m. to 2:00 p.m. Meals cost $10 for adults and $4.25 for children.
In addition to roast beef, enjoy mashed potatoes and gravy, a vegetable, tossed salad, rolls, drinks, and homemade desserts.
Thanks to everyone who comes to our dinners and other events. We couldn't continue to serve the Community without your help.