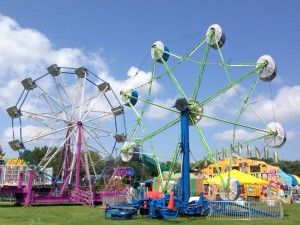 Join Lisburn Community Fire Company as it hosts the 64th Annual Olde Time Festival on August 9, 10, 11, and 12, 2017 with something for everyone, no matter your age!
Wednesday, August 9, is Ride Night from 6-10 p.m. with rides by AEB Amusements. Sorry, the large pavilion is closed that night, however you can find sandwiches, pizza, and ice cream. Free entertainment by Kraig Nace, our favorite DJ and owner of Jukebox Hits. Come join us, kick back, and listen to some great tunes.
Free entertainment continues Thursday with a new group at Festival, Jump Start. On Friday night come see Borderline, and Saturday night we wrap it up with Laredo.
Thursday through Saturday night entertainment includes a tractor parade of all makes and kinds of antique tractors. In addition, you can find bingo, rides and games on the midway, hay rides, small games of chance, a Silent Auction, plus arts and crafts vendors.
From Thursday to Saturday, treat yourself to delicious french fries, chicken corn and ham bean soups, funnel cakes, and BBQ chicken. In the large pavilion, enjoy hot chicken and roast beef sandwiches with mashed potatoes, homemade pies, and cakes. Pizza, hamburgers, hot dogs, hot and fresh sausages, and hamburger BBQ sandwiches are also available. Finish the night with a funnel cake, Turkey Hill's ice cream, Turkey Hill drinks or a cold Coca-Cola.
Make sure you visit the Silent Auction in the Social Hall featuring lots of items up for bid that you don't have to be present to win. Come bid on four one-day Hopper Passes to Walt Disney World valued at $162 per pass, or check out donated gift certificates, plants from local landscapers, and a painting of the Star Barn by our favorite artist, Emma Burns. While bidding, take a look at our book sale with books starting at a dime to a quarter each.
All proceeds benefit the Lisburn Community Fire Company at 1800 Main St on Route 114 halfway between Mechanicsburg and New Cumberland.
For more information, or if you want to be an arts and crafts vendor, please call (717) 620-8486 or email us.
While we love pets, for others and your safety, pets are not allowed at the Festival. Thank you for understanding.